André Butzer & Josef Zekoff
Sunday-S Gallery is glad to present an exhibition of new works by André Butzer and Josef Zekoff, especially created for Copenhagen.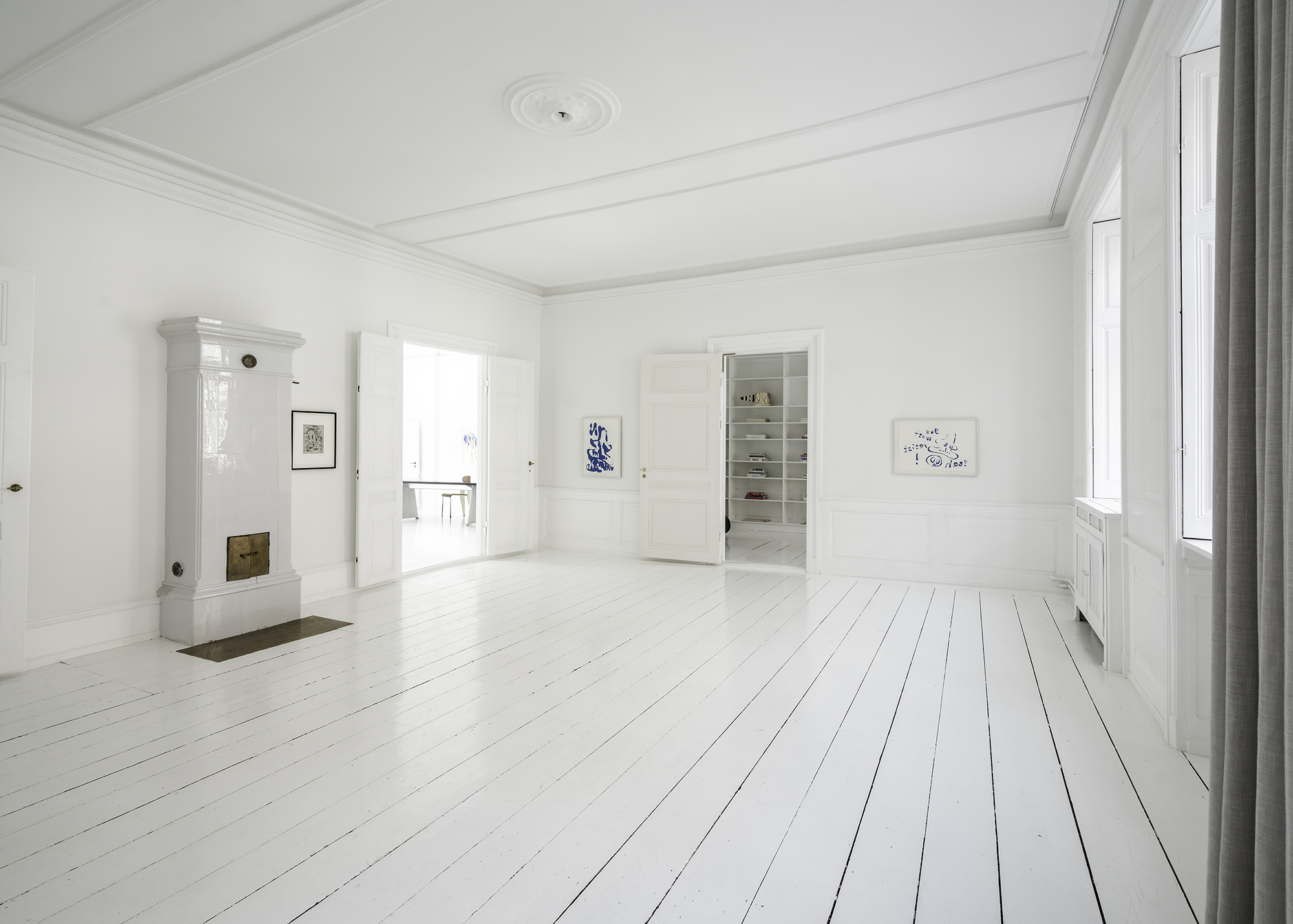 A monotype is the unique print mark of a still wet painting, having previously been executed on a smooth metal or glass plate. This is done with printing inks. A sheet of paper is subsequently placed on the painted plate, whereupon the print is made in a press or by hand. The resulting image laterally inverts the original painting. Since the printing plate is an intermediary between the artist's hand and the final print, monotypes are classified as a graphic art. However—as the name hints at—only one unique print is ever created, as original as it gets.
 
This game of reversing the motifs is fun and makes you want to delve right into it. It also requires curiosity to see the effigy instead of the image just painted. A persisting paradox: Not the painted image is the work of art, but the irreproducible print on paper! The two artists met for this game of wits and created amazing monotypes in only one session at Butzer's Berlin-Wannsee mansion near the river Havel. The initial paintings were done quickly, spontaneously resulting from their mutual kinship and conversations. Immediately afterwards, they were expertly hand-printed by Sarah Bogner on the same paper and in the same format.
 
In his seven monotypes, André Butzer (*1973) expands the already rich spectrum of his graphic œuvre with an impressive series of heads of his iconic figure of the »Man of Shame«, rendered entirely in blue. Even with only one color, the sheets vary greatly: at times the heads are given in color-saturated, strong lines, at times they seem almost ghostly as negatively drawn traces in delicate cloudy hazes. For all the head's emblematic qualities, the spotted and wiped-off areas of color might even be reminiscent of the subtle monotypes of Edgar Degas. Inverted, declaratory messages like »You must resist! Yeah« can be deciphered, yet they are always integral parts of the painterly. Then again, it appears as if all »[W]IDERSTAND« (resistance) was broken and in dissolution. Eventually, the writing totally merges with the image. Whereby Butzer's monotypes retain all the vibrancy and openness of his paintings as well as their force and vigor.
 
The nine sheets by Josef Zekoff (*1977) are playful variations on the motif of an upright, naked male body, facing the viewer head-on. One is equally reminded of Cézanne's bathers in the Mediterranean and Munch's in the icy North Sea or of Picasso's classicist boys. Zekoff uses the same intense blue, but adds a velvety flesh tone to it. Swiftly and confidently, he fills the formats with these bodies, which now and then resemble fragments of ancient statues. Their contours dissolve beneath overlapping and briskly applied patches of color. It is precisely where the two hues meet and interact, where Zekoff scratches off or overprints the layers of color that wonderfully differentiated passages full of painterly gestures come forth, in a way only monotypes can achieve.
 
What is fascinating about these prints is their immediacy and almost folk-like simplicity, concentrating the motifs in a dense condensate. Further and further, both artists set their motifs free into a realm of sheer independence. The hands of the artists are separated from the finished images due to the printing process, but the prints never lose their individual handwriting—that's true transformation! As there never are any ultimate motifs, you rather recognize Butzer's and Zekoff's amicable joy in the daring venture of repetition and endless re-vision.
 
Alexander Linn
Heidelberg, May 2022
 
 
Alexander Linn is the publisher of Edition Linn, specialized in prints, artist books and ephemera. Among many remarkable projects, he is the editor of André Butzer's forth-coming »Incomplete catalog raisonné of prints. Vol. I: 2001–2022« (Vienna: Verlag für moderne Kunst, 2022) and since 2017 of the ongoing series of Butzer's collected writings and texts.