Ethan Cook – Less Than Zero
April 28 – June 2 – 2017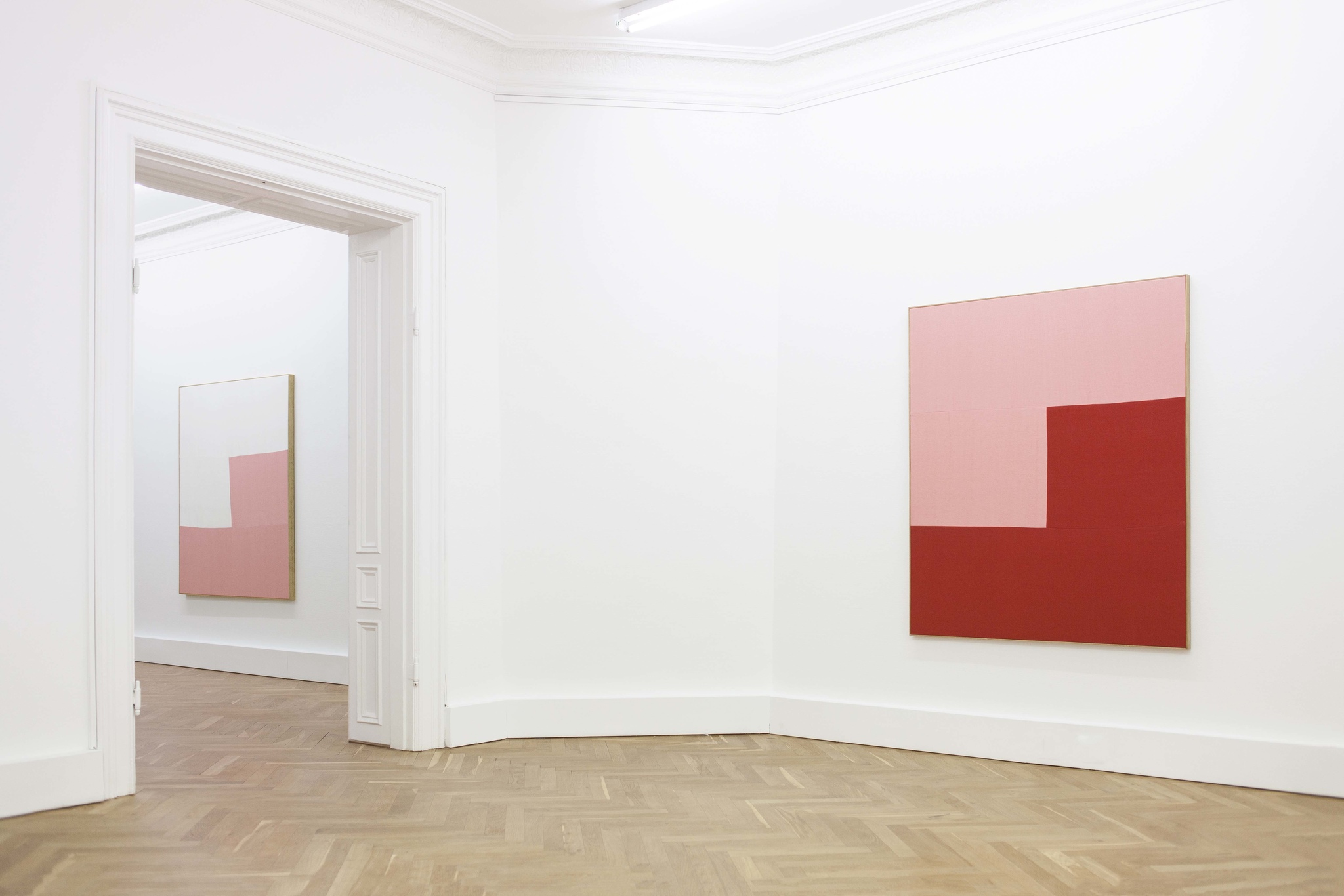 Sunday-S Gallery is pleased to present "Less Than Zero," an exhibition of new works by New York-based artist Ethan Cook. Building on previous collections, "Less Than Zero" finds Cook lending language to facets left otherwise plain, the gaps between content, suggestion and reading made suddenly, readily clear.
Lining each wall is a set of woven canvases, each handmade by the artist using a four-harness floor loom and set within self-produced frames. In appearance, these works share a common design, their jigsawed L-shapes interlocked at the center; in practice, the collection is joined on a more literal basis, the woven strips transferred from one piece to the next, the bottom-half fabric of a given work extended to the top of the next. Cook's methods demand both invention and allowance, as each piece reflects an established process but retains unique runs and lining, its incidence embraced as aesthetic.
Lending light to the space, meanwhile, is a neon sign, its text reading simply: "[Crickets Chirping]." Serving both as content and commentary, the text (a subtitle harvested from film) assumes multiple roles, acting at once as a light, a noise, a suggestions and a false lead—a muted reference, an element undefined yet less than zero. As with the woven "paintings," the sign is blunt in its fixings but rhetorical in function, a simulation defined less by expression than expectation.
Beguiling even in their materiality, the works on view in "Less Than Zero" fall somewhere between quotation and mimicry, their presentation suggestive rather than instructive. Sound, material, even genre—throughout, one finds indeterminacy embraced as footing, the works on view literal in content yet open in narrative: each piece neither yet both, its language both imbued and implied.
BIO
Born 1983, Texas, USA
Solo exhibitions
2017 'Less Than Zero', Sunday-S Gallery, Copenhagen
2016 'Shakespeare', Anat Ebgi, Los Angeles
2015 'De Beauvoir Crescent', T293, Rome
2014 'Ethan Cook', Bill Brady Gallery, Kansas City
2014 'Problem In Chair Not In Computer', American Contemporary, New York 2013 'Felman', Galerie Jeanroch Dard, Paris
Group exhibitions
2016 'Miranda', Anat Ebgi, Los Angeles
2015 'Archeologia e architettura', Fondazione 107, Turin
2015 'Politics of Surface – Part II', Berthold Pott, Cologne
2014 'THE GO-BETWEEN. A selection of emerging international artists from the Ernesto 2014 '173 E 94th St. / Chaussée de Waterloo 550', Paul Kasmin at Middlemarch, Bruss 2014 'THE GO-BETWEEN. A selection of emerging international artists from the Ernesto 2014 'Picture/Painting/Object', Albert Baronian, Brussels
2014 'Stitched Up', Sotheby's S|2 Gallery, London
2014 'Infinitude', Roberts & Tilton, Los Angeles
2014 'T293-in-residence', Sadie Coles HQ, London
2014 'Difference and Repetition', Luce Gallery, Turin
2013 'Space Whole Karaoke', Middlemarch Gallery, Brussels
2013 'Equilibrium', Ritter/Zamet, London
2013 '2014 Artists to Watch Exhibition', The M Building, Miami
2013 'Xtraction', The Hole, New York
2013 'Imago Mundi', Luciano Benetton Collection, Venice
2013 'This is the story of America. Everybody's doing what they think they're supposed t 2013 'Pattern Recognition', Ana Cristea Gallery, New York
2013 'Shake Shack Guggenheim', V1 Gallery, Copenhagen
2012 'Dreamtigers', Ed.Varie Gallery, New York
2012 'MADE WITH MUSTARD', East Hampton Shed, East Hampton
2012 'Floor Routine', Bodega, Philadelphia
2012 'MATTERDADDY', Angstrom Gallery, Dallas
2012 'Black Foliage', Nudashank, Baltimore
2012 'Slowed & Throwed', Chinatown Arcade, New York
2012 'Tlk Drty', Amstel 41 Gallery, Amsterdam
2012 'The Big Stink Moves Like a Moth Towards the Light', Hungryman Gallery, Chicago 2012 'Rooms Within Rooms', Apache Projects, Anafi Island, Greece
2012 'Brucennial 2012', BHQF, New York
2012 'Alchemy', Harvester Gallery, Hudson
2012 'FFA', Space Gallery, Portland
2011 'What Brings The Dust Together', New Gallery London, London
2011 'Nom de Guerre', Youth Group Gallery, New York
2011 'Refractions', Place Gallery, New York
2011 'All the Tired Horses in the Sun, How am I Supposed to Get Any Riding Done?', E 2011 'Issue Project Room' (Benefit), Industria Superstudio, New York
2011 'NurtureArt' (Benefit), Chelsea Art Museum, New York
2010 'Black, White and Read All Over', Envoy Gallery, New York
2010 'It Is What It Is', Envoy Gallery, New York 2009 'Works', Do Right Gallery, Marfa
BIOGRAPHY
American, b. 1983, Tyler, Texas, based in New York, New York