Mathias Malling Mortensen
"You must believe in spring"
Opening Friday March 9th. / 5-8PM – April 13th. 2018
---
You must believe in spring
The term caesura is arguably one of the most fundamental parts of poetry and music. The expression refers to the planned pause, the interruption of a series of movements, which allows the trumpet player to catch his breath or the poet to sustain a suspension within a verse.
Mathias Malling Mortensen's series of works conveys a reminiscing of a synesthetic experience initiated by the tones of Bill Evan's album You must believe in spring from 1977.
In this exhibition of works, taking its title from Evan's elusive piano, Malling Mortensen strips the canvas down and leaves the raw linen as the backdrop for a personal symphony of shapes. This allows Malling Mortensen's alphabet of note symbols to ascent from the resonance created by the geometric shapes, forming silhouettes of Evan's melancholic longing for spring. Following a tradition of artists' use of abstract painting as a medium to articulate movement and progress, Malling Mortensen utilises a stringent pallet ranging from ultramarine to black, merely to be disturbed by large achromatic sections, in his study of the possibilities sustained in the intersection of music and art. This inextricable relationship has been actualized throughout art history, however Goethe's comparison of the two drawn in a letter to the German composer Carl Friedrich Zetler in 1820, comes especially to mind regarding the series of works in question:
 "The visual symbol is at once effective and elusive; the musical symbol, by contrast is emancipated from its original source and merely triggers the imagination."[1]
Seen as a result of Malling Mortensen's merging of the two artistic fields, we find a prevailing wish to construct a joined perception within the canvas. This is as much a product of the movement of the note transformed into a symbolic form, as it is a consequence of the recognition of the symbolic form's capability to give the viewer a sense of timespan through the use of repetition.
Cecilie Marie Dalhoff, art historian
[1] Bodly, Lorraine Byrne: Goethe and Zetler: Musical Dialogues, p. 9, New York: Routledge (2009) 2016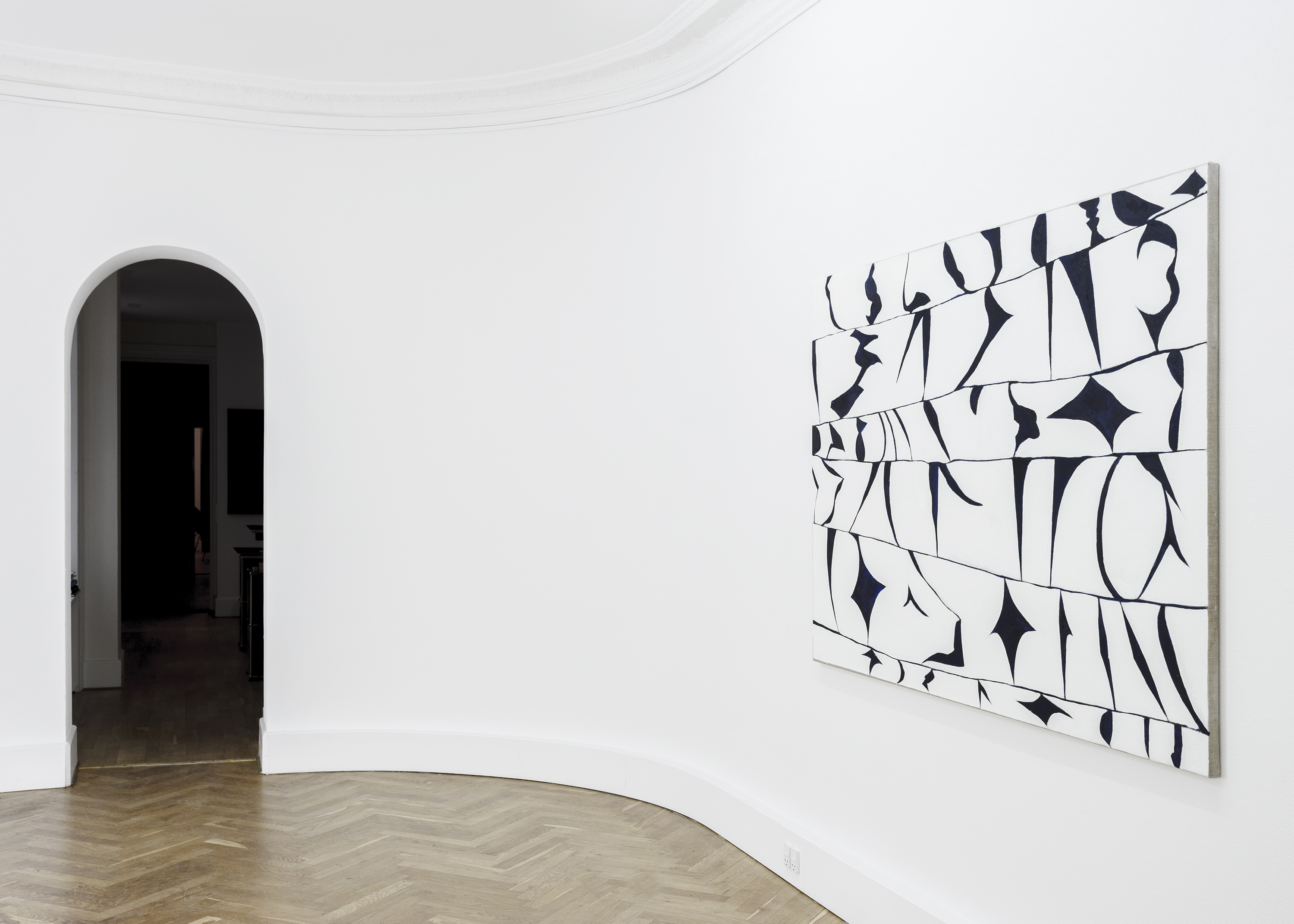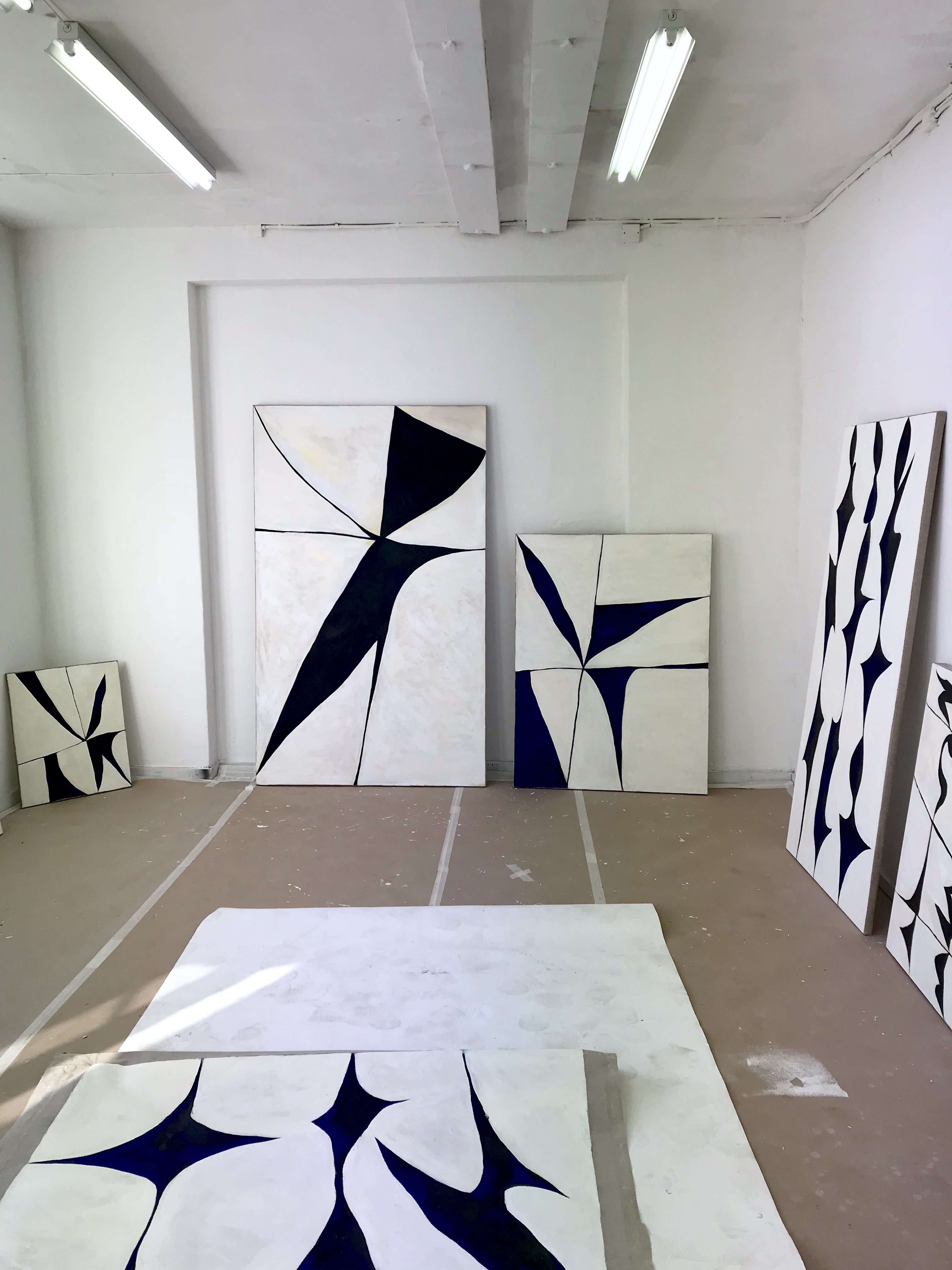 ---
With a strong emphasis on the dynamics occurring when adding empty space to a canvas, Mathias Malling Mortensen is constantly exploring spatiality, texture, form and poetry in his abstract paintings. The balance between surfaces and lines make up the subject in the intense non-figurative paintings.
Mortensen recently resumed painting after years of working primarily with porous paper reliefs. A change adding a more intuitive, free aspect to his artistic practice, letting him focus on the tension between minimalistic dark, light and dimmed colours and making those recognizable forms that both resonate with and confuse the viewer.
Mathias Malling Mortensen (b. 1980) recently exhibited at Kunsthaus Essen, Charlotte Fogh Gallery and Les Gens Heureux and did a series of monotypes with Printers Proof. Mathias Malling Mortensen is a native Dane, earning his degree at Danish School of Media and Journalism in 2013. He lives and works in Copenhagen.
---
BIO/CV
Solo
You must belive in spring. Sundays-S marts 2018
You have your fathers eyes. Les Gens Heureux 2015
Beach House Memorial. Format Artspace 2013
Salon. Les Gens Heureux 2012
Happy Birthday. Mohs Exhibit 2008
Groupshows
SIZE MATTERS more or less. CCA Andraxt september 2018
Wunderkammer. Curated by Søren Sejr / Kristian Touborg. KH7 artspace feb.2018
Art Herning. Printers Proof 2018
Memories of an elephant: with Tamina Amadyar, Pierre Knop, Simon Laureyns. Kunsthaus Essen. 2017
Code Art fair. Printers Proof 2017
Black and White `ish group Show. Charlotte fogh gallery 2016/2017
Code artfair. Galleri Les Gens Heureux 2016
Summer Show, Duo med Jesper Skov Madsen. Galleri Les Gens Heureux 2014
Psaligra . Munkerup Hus 2012
Efter Stormen, W. Morten Leck Plesner & Christian Elovara Dinesen. Mohs Exhibit 2010
Poulsen on Paper. Galleri Poulsen 2010
Education
BA Degree at Danish School of Media and Journalism in 2013.